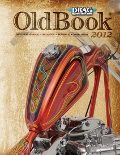 Drag Specialties OldBook
Harley Parts & Accessories
'12 Catalog




>AHDRA All Harley Drag Association
>Drag Specialties Project Bikes
>Drag Specialties Toolbox
>Drag Specialties Parts Installation
>Drag Specialties Calendar of Events





*All Motorcycle Apparel

*All Motorcycle Accessories


OEM Parts Diagrams
The 2012 FATBOOK™ now features only the most up-to-date Evolution™ through Twin Cam™ parts, accessories and fitment information available anywhere. With over 1,300 pages of products, it's purely the best source for late model V-Twin information, parts and accessories.
And for those pre-84 years Drag now brings you the 2012 OLDBOOK™. Drag Specialties has organized this catalog in an all-new uncluttered format by model including; Shovelhead, Panhead, Knucklehead, Ironhead XL and a General section for those all-inclusive items like tires and wheels. Within the OldBook 600-plus product pages enthusiasts of classic V-Twins will find everything they want faster and easier than ever before.
Use both the Fatbook and OldBook exciting catalogs to find the largest assortment of parts and accessories, along with the most up-to-date information available anywhere, to keep American V-Twins rolling in style. - DragSpecialties


Old Book Featured Exhaust-up to 25% Off!
Old Book Featured Air Filter Elements-up to 25% Off!
Old Book Featured Oil Filter Elements-up to 25% Off!
OldBook Featured Floorboards-up to 25% Off!