Drag Specialties Fatbook
'13 Catalog




>AHDRA All Harley Drag Association
>Drag Specialties Project Bikes
>Drag Specialties Toolbox
>Drag Specialties Parts Installation
>Drag Specialties Calendar of Events




*All Motorcycle Apparel

*All Motorcycle Accessories


OEM Parts Diagrams
Check out the all new Drag Harley "OldBook"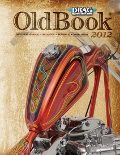 Drag Specialties OldBook
Harley Parts & Accessories
'13 Catalog
Drag Specialties is an industry-leading dealer-distributor of aftermarket parts and accessories for Harley-Davidson®. Two things go hand in hand at Drag: quality and quantity. 2013 Drag specialties Fatbook offers the widest selection of premium parts and accessories with unbeatable service to boot. If it's new, innovative and - above all - top quality, Drag Specialties will have it. And that's coming from a company where guarantees are more than simply expected – they're understood. Drag Specialties has presented drag races, and sponsored its own drag racing team for the All Harley Drag Racing Association. Team members have included Chris Rivas, former AHDRA Pro Stock Western Division champion, and Chip Ellis, 2008's second-ranked NHRA rider. Drag Specialties has also sponsored a superbike team for AMA Pro Racing, having included Steve Rapp, who ranked 2nd in the AMA Formula Xtreme in 2007. The foundation that Drag Specialties was built on over 30 years ago is the same foundation that will carry us into the future. We are people who have been living and breathing Harleys since we could walk. What's more, Drag Specialties shares a common bond – the appreciation of and passion for motorcycless. Cycle Parts Nation is an Authorized Drag Specialties Parts Specialist.